Coat of Arms
The following are some examples of the variations of my coat of arms. I drew all of these on Corel Draw and then used Corel Photo-Paint to modify them and to clean up the bitmapped images.
---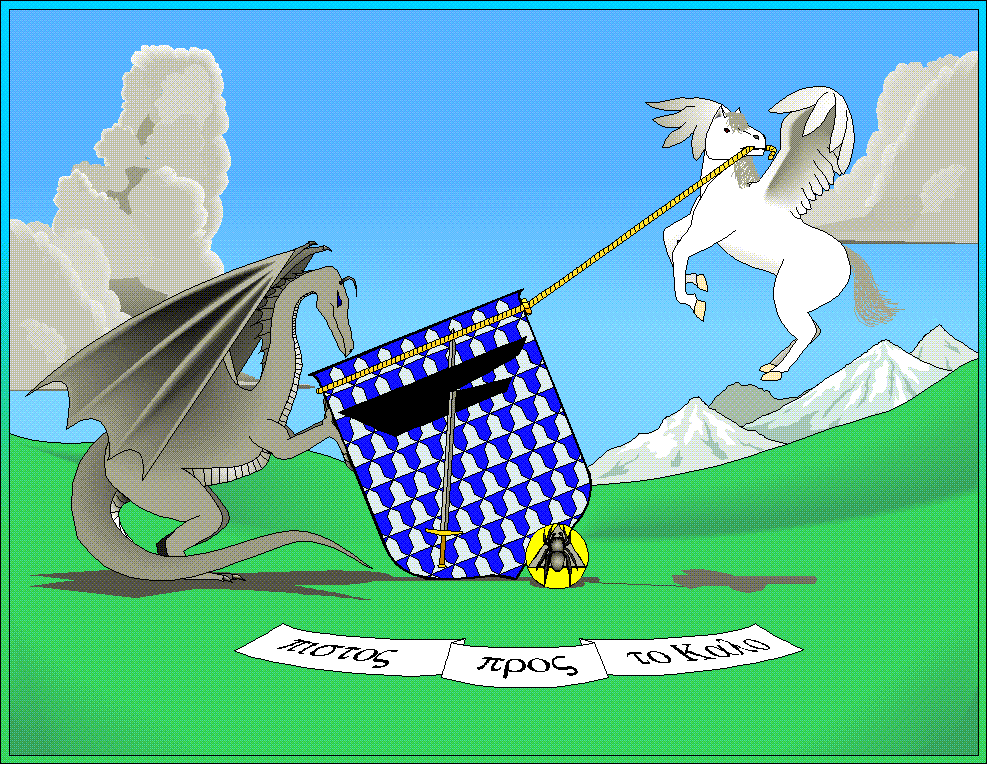 This first image was transfered to the computer from an original hand drawing I did. After it was scanned in it was in a very rough form, and without color (my original drawing was a pencil sketch). I used Corel's Photo trace program to make the image into a vector graphics format. This made the manipulation of the various objects in the draw program very easy, as compared to a bitmap editor. Each object in the image is a separate entity; this involved in separating each object out because the trace program made the image as one big vector image. I then placed the objects in their final positions, added color, and background. The clouds and the mountains are altered images that came with the Corel programs (after doing the other stuff, I was created out when it came to drawing clouds and mountains from scratch).
---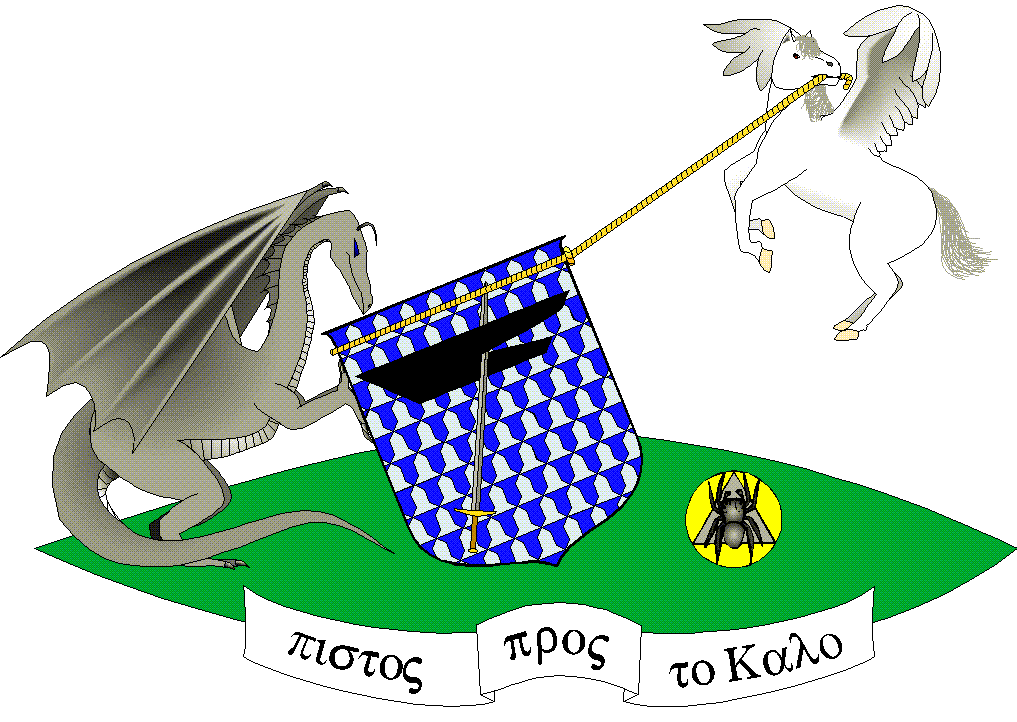 If you notice, this image contains much of the same elements that the first one has. This is the nice thing about vector graphics, each element is created separately (and it stays separate), and can be grouped in any way possible. This makes it much easier to change the elements of am image, than in a bitmap editor (like many paint programs). Because a bitmap editor saves the image as one element, any time you want to change the position, shape, and sometimes the color of an individual object inside the image, the complete area around the object must be redrawn (this can be a pain in the butt, espically if you have anything like fountain fills in the area to be modified).
---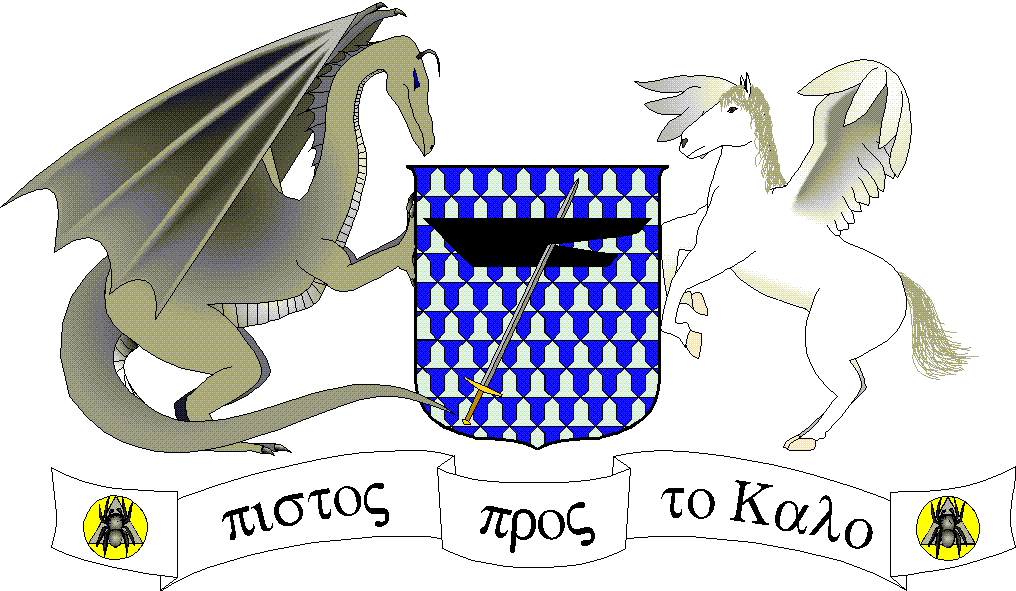 This image was a little bit of work, but it wasn't too bad. What I did was to use the same objects that are in my original image, but I then edited the line vectors to reposition the hands and legs. I also selected the shield and the objects within it, and rotated it. I did have to redraw the pegasus' head to put it in the proper orientation.
---
This image is just a copy of the previous one, but to modify it I used Corel's Photo-paint program. Photo-paint is a bitmap editor, but since I didn't have to do major changes to the image (just add background, and texture the scroll), a bitmap editor is much handier (this is espically true since the background and the texture were already bitmapped images).
---
Here is the original pencil drawing that all of this work originated from.
---
The main drive for me to draw a coat of arms started when I was in junior high school, and I had to make a report on my family tree (this report had to include a coat of arms, and if the family didn't have one, then it would have to be created). Since my family's personal records only go back to my great-grandparents, and with my family history seeming to start at that point, I had to do a search for a possible family coat of arms. Tavenner is a Welsh name derived from the word tavern (bet ya that was hard to guess); most of the coat of arms associated with that name were also associated with a tavern. The ones that I kept finding reference to was one with the bust of a bare chested woman, and another, if I remember correctly, was just one womans' breast. Of course, this did not strike me as a good way to identify a family, plus there was no edvience that this was my family's coat of arms, so I decided to create my own. What I drew back then is a far cry from its final form, but what I drew placed more of an emphasis on a means of identifing me (a personal coat of arms, instead of a family coat of arms), as the final form does. I did this because I felt that I couldn't represent my family in the way that it might have wanted to, but that I knew how I wanted to be represented. The final drawing follows the heraldic rules (as my limited understanding of them allows), and it contains elements that reflects my beliefs and symbologies.